Weekend
What a lovely weekend!

On Friday, I met up with one my travel buddies Marco and reminisced "the good ol' days" over a beer (Never mind that the good old days were hardly more than a month ago...).

For some reason, I've been finding it very hard to talk about my trip. So much happened in such a short span of time, there's so much to say that I honestly don't even know how to begin. And when I do, I can't help but feel that I'm boring my friends. I mean, who wants to hear me blather on about backpacking for hours anyway? So I've just been keeping silent, or repeating the same stories over and over again.

But on Friday night, all that changed. It felt so
good
to be able to speak to someone who'd been through the same trip as I had, who understood the crazy situations I found myself in! What a release. I found myself telling him the story of how I (of course!) forgot my Lonely Planet on the bus, landed alone in an unknown city in Turkey at 5 A.M., and managed to find my way to the hostel, haha.

Then I met up with my friend Jon (astute readers will recognize him as friend-who-helped-me-paint) to celebrate his birthday in style. He's now officially two years older than I am, the geezer.
The next morning, his friend Cat and I had organized a rather hung-over brunch with all his friends at a fantastic brunch place in my neighborhood: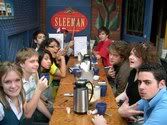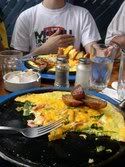 Yummm! But the celebration didn't end there, oh no. We also undertook the task of making our very own, rather terrifying pinata, stuffed with the best of candy, naturally.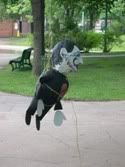 Jon gets ready to strike (using a hockey stick, like a good Canadian)...


...and we reap the spoils.

Sadly, I had to spend the rest of the day slavin--I mean, studying for my mock-MCAT exam on Sunday: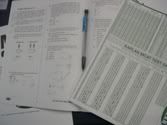 Gross.
I did manage to take a break to watch the last 30 minutes of the France-Brazil game.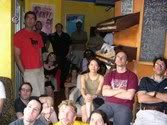 As you can tell from the zombie-like faces, it was a pretty amazing game. ALLEZ LES BLEUS!
I live on the border of the Greek and Portuguese neighborhoods, so I wasn't sure how people were going to react when France won. I was pleasantly surprised to find that it was quite the party!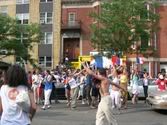 Alright I think this post is quite long enough. I like pictures, can you tell? More should come soon-- in particular pictures of the jazz festival.