Up to no good!
Woah woah woah. These past two weeks have been insane!
Work has absolutely taken over my life. It's this really great lab job-- lovely co-workers, really interesting project that's all mine, and I get to chose my hours. The down side? I get to chose my own hours! My family is dangerously workoholic as a rule, but this is just getting ridiculous. I haven't been home before 8 P.M. at all this week, and most times I'm staying until midnight. It's so pathetic!
While all of this is going on, I'm also following my MCAT classes three times a week: Mondays, Wednesdays, and Saturdays. They've told us that they fully expect us to study 40 hours a week. Hmm... yes, I can see there's going to be a problem!
However, I did take the afternoon off yesterday (Happy St. Jean-Batiste day!) to paint my living room. It looks like a war scene at the moment, as we've shuffled around all of the furniture, but here are some pictures: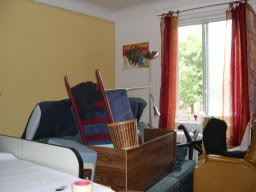 The war zone! I've chosen to paint only two walls, for "effect". I still have lots of paint left, so if looks terrible, I can always finish the job.
I managed to sucker my friend Jon into helping me paint. Good times!
We also went to Parc Jean-Drapeau last weekend, which is an island near Montreal. Picnics are fun!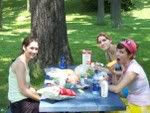 Naturally, we froliced in the fountains, entirely unfazed by the fact that we were the only people there over 7.

Oh, and the new tea shop is actually less of a tea shop nowadays as a cool bar/cafe. It's also a hostel. They've combined all of these old apartments and really revamped the rooms. I wish they had more pictures of them; they're really gorgeous. Large couches, brightly coloured window frames...