Rudeness
Argh. This evening I was supposed to meet up with some friends to check out Montreal's famous jazz festival (tonight is the first night).
I was running comfortably late as usual, but when I went out to find my bike-for-the-summer (I'm borrowing my friend Heather's), I bumped into a rather substantial problem.
Someone had locked their bike
through mine
, onto the fence. What?! How rude is that?
Long story short, I was more than a little late, missed my friends, and ended up watching the show alone (it was still very good, though). Grr! If I were spiteful, I'd call up some of my more... "ressourceful" friends and get them to cut the bike's lock off. But for now, I left the owner a little note: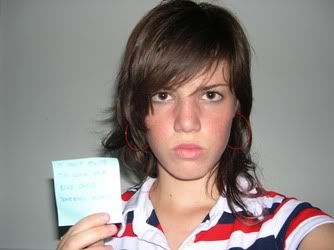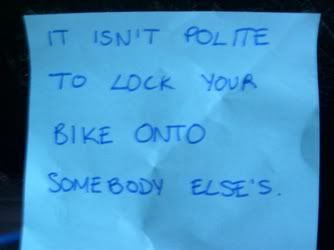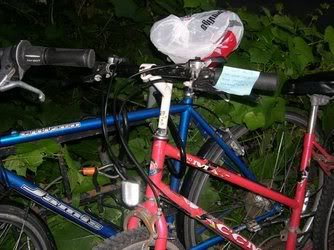 (Note: my nice blue bike, trapped by the shitty red bike.)
If it's still blocking my bike when I leave for work tomorrow (at 8 A.M.), I don't know what I'll do!