Landscapes
Traveling across Madagascar is like traveling across at least 5 different countries-- the landscapes change so quickly, and each region is highly distinctive.

I'm sorry there are so many pictures; I've resized them and I hope that they won't take ages to load. If anyone wants the (very big) full size version, just ask.



HAUT-PLATEAUX REGION




A traditional alleyway in Antanarivo, Madagascar. From the road these look like very narrow passages, but with a little exploration, one can discover entire neighborhoods.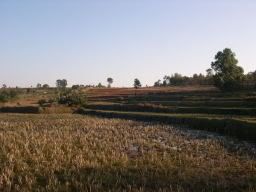 A little way out of Tana, the villages grow smaller. Rice fields are everywhere (it's currently winter, so the rice fields aren't a brilliantly green as they are during summer). The houses are traditional to this region too-- they have balconies and almost European build.




Slash and burn is heavily used. Over the last 30 years, 80 % of the countries forests have disappeared. Everywhere we would go, we could see smoke somewhere in the distance. As a biologist, I can't even express how sad this made me, but one must forget that to the farmers, a field is worth far more than a forest. No measures were taken to accommodate and feed the growing population, so the farmers do what they can...
Ramonafama national park. It was cold. It rained. No lemurs in sight (despite a pretty intense 3 hour trek through the rain forest!). It was very beautiful though, and it's one of the countries biggest conserved forests. The roads to get there were horrific however (they were worse than the picture looks):



ISALO


Little by little, the landscapes changed... and began reminding us a little of Idaho!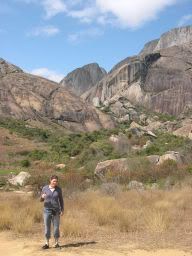 Once we passed "la Porte du Sud" (the Southern Gate), it became noticeably dryer.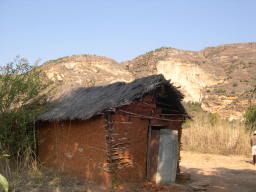 Above is a picture of "la Fenetre du Soleil" (the window of the sun). It's undescribably beautiful... as the sun sets, it sends an orange tinge over all of the sedimentary rocky formations of the plateau. This region of Madagascar is much dryer. It's the zebu region, on which people depend on to make a living. Every year, they start huge fires in the prairies so as to allow younger, softer grass to grow for the zebu.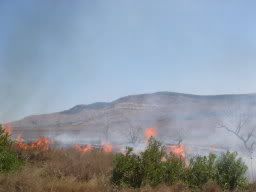 We also visited "le Canyon des Maquis" (the lemur canyon)-- it was like a whole other world inside! Much cooler and waterfalls everywhere. We spotted lots of lemurs, too (but they merit getting their own post!).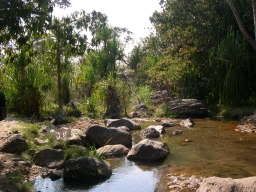 Legend goes that the Kings of Madagascar used to shower here. One day, as the King and his procession arrived, they saw a lemur showering in the pool. Immediately, the King proclaimed that he would not bathe with the animals, and chose a new spot to shower. Personally, I wouldn't mind having my shower look like THAT.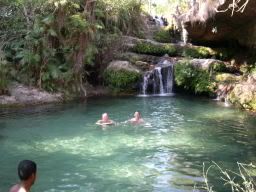 The water was warmed by the sun before it collected in the secluded pool. P-a-r-a-d-i-s-e.



TULEAR REGION
As we approached the sea, we began to see more and more boababs. We thought they were flowering, but it turns out those white blobs were birds.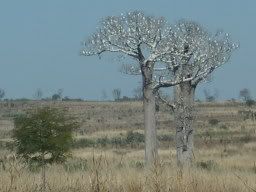 Our final destination: Ifaty beach.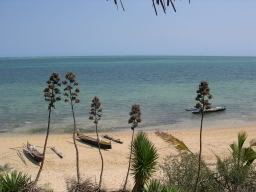 The people in Ifaty are mostly fishermen. Until a few years ago, they would fish by breaking corrals to scare the fish. Recently (and to my great relief), the government has protected the corrals, and many of the fisherman have now become tour guides.

----------
PS: Don't forget to post on my guestmap! It's in the sidebar on the left. Thank you Beata, Sarah, Amanda, Magali, and Beaver for posting!