Ski and Gertrude
Oh dear... the updates seem to be getting more sporadic, don't they? I mean to post, I really do, it just seems like every time I sit down to write, I run out of steam.
This week is reading week! In the States, this is known as Spring Break, but here at McGill they actually expect you to do some studying. And studying I shall! I have two midterms and two papers to prepare, and I am quite seriously terrified.
I started my week off studiously by going... skiing! I told my friend Emily that I hadn't been skiing in Canada yet, and she brought it upon herself to fix this travesty. So: free ride (her grand-mother lives right next to the ski resort, so her mother drove us), free tickets (they apparently go often), alright! All I had to pay was the ski rental for half a day, which was ridiculously affordable.


I hurt in all sorts of places now, but it was worth it.




Another result of reading week is that

everyone that I usually hang out with in the neighborhood is gone. Come to think of it, most people in general are gone. Thank

goodness

I'm bird-sitting Heather's budgee Gertrude, because otherwise I'd find myself getting closely acquainted to Mr. Stove-top and Mrs. Fridge. Oh dear.
So, without further ado, meet Gerturde!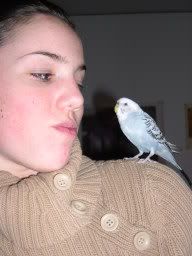 Isn't she a cutie? I think so. Her favorite things include: chirping, playing with her reflection in the mirror, and chewing my hair when it's wet from the shower.