A Feist to DIE For
Here are some pictures!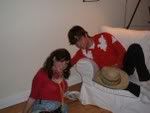 William , or "Big Bill" (aka Dan) and Dorothy, or "Dotty" (aka Eva) . She was the crazy sister and he was her husband.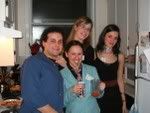 Chris Lester, the playboy good-for-nothing son (aka Sean), Eleanore the secretary (aka Caroline), Robert, the business associate (aka Robin), and Candy the slu--fashionable next door neighbor (me!).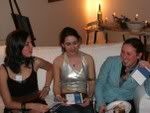 Candy, her daughter Desiree (aka Katie), and Robert. Candy appears to be accusing Robert of something at this point.
We seem to be missing pictures of Mark Lester, our gracious host! I didn't have my camera that night, so I have to wait for others to upload their pictures...

PS: Please let me know if this makes my blog look funny again...